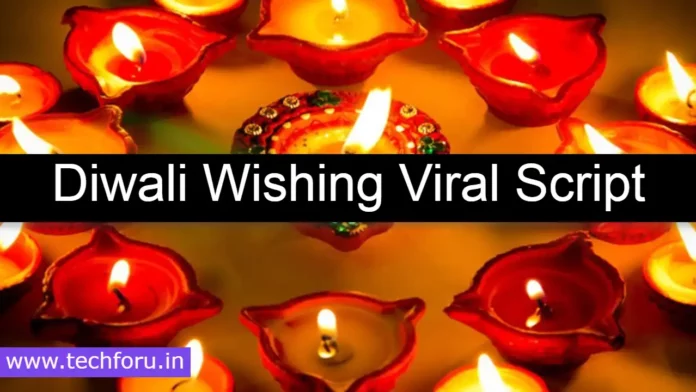 Diwali Wishing Script 2023: In this article, we have brought "Diwali Wishing Script" 2023, which you can download absolutely free and make a wonderful Wishing website by installing it on Blogger.
Diwali Wishing Script
As you all know Diwali is the most significant and important festival among Hindus, Jains, Sikhs, and some Buddhists celebrated in India. In such a situation, if you make this Diwali one of your Wishing Websites and you can make a good Traffic Increase by Viral it on the Internet, then you can easily do good online earnings. For which you need Diwali Wishing Script.
So, today we have brought the best Diwali Wishing Script for you, by which you can create Diwali Website. Send your own Diwali Wishing website to your friends and family members and make lots of online earnings.
Here you find advanced Diwali Wishing Scripts, in which you get all things like Social Share Button, PNG, and GIF images, etc. This makes this Wishing Scripts a better look and it helps you to viral this script on social media.
This Wishing Script is specially made for Diwali and has also put fireworks in the background along with GIFs and Images which makes this script very good. Along with this, the place has been kept white to give Importance to the name so that the text is well understood, this script is very good for starting and you should create a website from this script and send it to your friends and family members needed.
Checkout: Krishna Janmashtami Script 2023 Viral and Advanced Script for Blogger
Diwali Wishing Website
You see the demo of the Diwali wishing website given below:
Demo
Screen Shorts of Diwali Wishing Website
Some Screen shorts of the Diwali Wishing Website are given below.
How to Download Diwali Wishing Script for Free
To download this Wishing Script for free, you can use Google Drive.
Click Here to Download
How to Customize and Install These Scripts
Step 1: "Download Diwali Wishing Script 2023" from the above link.
Step 2: Create a blog on blogger
Step 3: On the blogger, dashboard go to the theme option
Step 4: Scroll down and click on "Revert to classic themes" and paste the downloaded Diwali Wishing Script 2023 theme.
Step 5: Change the NavBar option to the OFF navbar and save the theme.
Step 6: Turn Off the mobile view option and save.
Step 7: You can edit the Diwali Wishing Script 2023 theme by going to the Revert to classic themes option.
Checkout: Happy Diwali 2023 Wishes | Diwali SMS | Diwali 2023 Quotes & Images
Advantages of Diwali Wishing Script
It is made for Diwali Wishing Script 2019 which also features Timmer. So that whenever you send this Wishing Website to the user, he will not only get Wish but will also keep in mind when is Diwali.
Now let's talk about your benefits, you can put Adsense Ads or Adsense Alternative on these scripts so that these Wishing Websites will be monetized and you can have good online earnings. Therefore, you must make this Diwali a Wishing Website and send it to your friends and relatives.
Checkout: Top Best Affiliate Marketing Sites 2023
Finally, we hope this article can help you to create a beautiful Diwali Wishing Website. Creating a Wishing Website through a Happy Diwali Wishing Script and sending it to your friends is an excellent process so that you can Wish not only your friends but also do some online earning. If you really think this article helps you then don't forget to appreciate our efforts in the comments below. For more blogging and technology-related tutorials, please stay connected with us.
For the latest tech news & blogging Tutorials, follow TECH FOR U on Twitter, Facebook, and subscribe to our YouTube channel.
Read More: