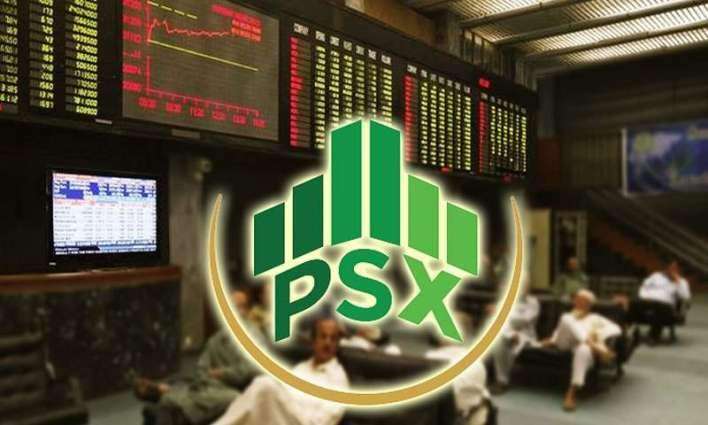 Positive trends persisted at the Pakistan Stock Exchange (PSX) on Monday as the benchmark KSE-100 Index surpassed the 56,000 points level for the first time in its history.
As of 11:50 am, the KSE-100 Index stood at 56,224.76, reflecting a gain of 833.40 points or 1.5%. Last week, the index had achieved another landmark by crossing the 55,000-point mark, concluding at a record 55,391.37 points.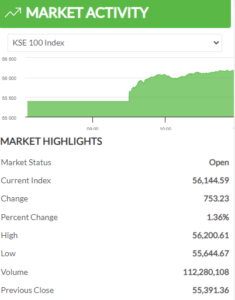 An increased buying activity witnessed across a range of sectors, including index-heavy areas like cement, chemicals, commercial banks, power generation and distribution, real estate, oil and gas exploration companies, and oil marketing companies (OMCs), all demonstrating positive trading trends. Notably contributors to the index include companies like HUBC, ENGRO, EFERT, FFC, and MTL.
The All-Share index is presently trading at 37,228.85, registering a net gain of 434.07 points.
The prevailing positive sentiment is also attributed to the recent PIB auction on November 08, where a significant decrease in yields was observed. This development is interpreted by some market participants as an indicator of expectations for an earlier-than-anticipated reduction in interest rates.
The ongoing discussions between the government and the International Monetary Fund (IMF) are of interest, particularly in terms of fiscal matters. Conversations include considerations for implementing structural adjustments in tax collection, with discussions on potential taxes on agriculture, real estate, and the retail sector.
Investors are also awaiting the outcome of the imminent review by global index provider Morgan Stanley Capital International (MSCI), scheduled for tomorrow. There is speculation regarding a potential increase in Pakistan's weight in the global index.
During the fiscal year, the KSE-100 has demonstrated substantial growth, gaining 14,549 points or 35.1%. The ongoing calendar year has witnessed a cumulative increase of 15,581 points, equivalent to 38.55% in the KSE-100.