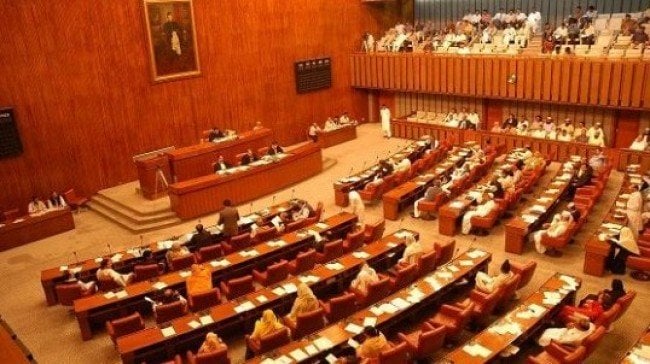 ISLAMABAD:

Chaos and uproar reigned the upper house yet again as protests disrupted its proceedings on Friday with lawmakers clamouring for a thorough discussion on the controversial resolution that backed military trials of civilians.
As Senate Chairman Sadiq Sanjrani initiated the session's agenda following the Quranic recitation, senators refused to sit and instead began chanting slogans against military courts. "No military courts, no military courts," they chanted.
Senator Sadia Abbasi refused to let the house proceed until the resolution was thoroughly debated. However, the chairman's attempts to restore order were futile amid the uproar.
Read More: Interim govt challenges SC order against military court trials
Senator Kamran Murtaza of Jamiat Ulema-e-Islam attempted to challenge the Senate's passage of the resolution without due procedure, a move against the Supreme Court's ruling on military courts. Nonetheless, the chairman denied him the floor.
The plea for discussion persisted as Senators echoed objections against the resolution, disrupting the customary order of the House.
Senator Ahmed of JI likened the resolution to a "drone attack" on democracy, casting a shadow over the Senate's integrity.
Meanwhile, Senator Zarqa Suharwardy Taimur of PTI urged for a deliberation, met with resistance from the chairman, who aimed to maintain session protocol.
Read More: Martyrs' families demand restoration of military courts
"Respect the House and sit down […] The entire House cannot talk at the same time. This is not the way," Sanjrani said as senators continued to protest.
Amid the noise, the chairman adjourned the meeting till Monday afternoon.
This resolution, passed in a session marked by the absence of the majority, sought to urge the Supreme Court to reconsider its ruling that deemed military trials of civilians as unconstitutional. The resolution itself condemned the SC verdict as an overstep into legislative territory.
However, its sudden introduction and passage during a sparsely attended session drew ire from senators across party lines.
Senators Raza Rabbani of PPP and Mushtaq Ahmed of JI had voiced dissent during the passage, criticising the nastiness. However, their objections were ignored by Chairman Sanjrani.
The fallout from its passage was immediate, as members from prominent political parties united in the Senate, denouncing the resolution's hasty approval and demanding its retraction.