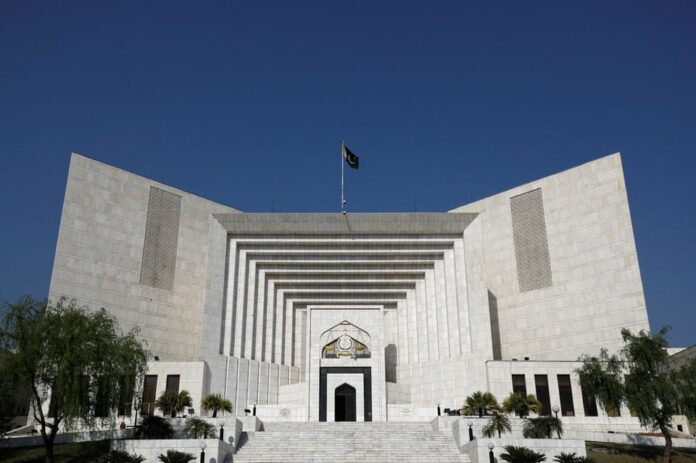 ISLAMABAD:

The Registrar Office of the apex court has returned a constitutional petition filed by the renowned lawyer Aitzaz Ahsan. In the petition, Ahsan had requested the court to declare enforced disappearances as a violation of constitutional provisions and to reconstitute the Commission of Inquiry on Enforced Disappearances.
Ahsan filed the petition under Article 184(3) of the Constitution, seeking a declaration from the court that enforced disappearances violate Articles 4, 9, 10, 14, 19, and 25 of the Constitution.
He noted that the Commission of Inquiry on Enforced Disappearances did not comply adequately with legal and international standards. The petitioner urged the court to direct the relevant authorities to reconstitute the commission in accordance with legal and international standards.
Read More: Aitzaz moves SC against citizens going 'missing'
However, the registrar returned the original petition along with paper books, deeming it not entertainable. In the letter, the registrar stated that the petitioner had not indicated the questions of public importance involved in the case with reference to the enforcement of any fundamental rights, which are required to directly invoke the jurisdiction of the court under Article 184(3).
The letter emphasized that invoking the extraordinary jurisdiction of the Supreme Court for the redressal of an individual grievance is not permissible, citing a precedent (1998 SCMR 793 as Zulfiqar Mehdi vs PIA). It also mentioned that the petitioner had not approached any other appropriate forum available under the law for the same relief and had not provided any justification for not doing so.
Read More: Senate panel mulls remedies for missing persons
Additionally, the court has returned a constitutional petition filed against the expulsion of foreign citizens. The Registrar Office asserted that the discretion for using Article 184(3) was not demonstrated for public interest, and Article 184(3) cannot be invoked for redressing individual grievances.
On another note, the Supreme Court is set to hear a petition challenging the results of the census in Balochistan. A three-member bench, led by Justice Ijazul Ahsan, will conduct the hearing on November 13. The petitioner, Hasan Kamran, initially contested the census results in Balochistan in the Balochistan High Court (BHC) and moved to the Supreme Court after the BHC rejected the petition.
Furthermore, a case regarding illegal constructions in Karachi is scheduled for a hearing on November 17. Justice Ijazul Ahsan will preside over a three-member bench for the hearing.
The court has issued notices to various parties, including the Land Utilization Department. The petitioner, Izharul Haq, approached the apex court against illegal constructions and encroachments in the economic hub of the country.