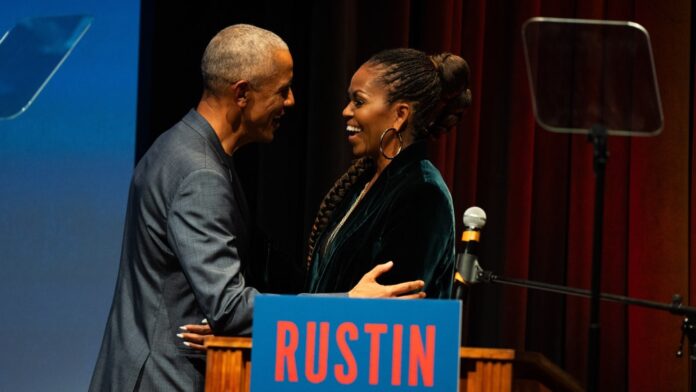 Barack Obama celebrated the end of Hollywood's historic strikes during a surprise appearance alongside former First Lady Michelle Obama at a special screening of Netflix's "Rustin."
"It's great to see even more of you since the strikes are over," the former president told the audience on Friday night in Washington, D.C.
He added, "As somebody who cares a lot about the power of workers in this country and as the father of somebody who writes in film, I am glad that both the actors and the writers came to an agreement that recognizes their worth and their work."
The screening for the Netflix biopic was held at the National Museum of African American History and Culture in Washington, D.C, and was one of the opening night events for the inaugural HBCU First Look Film Festival from Nov. 10 to Nov. 12. The festival celebrates Black filmmakers and draws HBCU students and graduates to hear from Black creatives in the entertainment industry.
"Rustin" follows the story of Bayard Rustin, advisor to Martin Luther King Jr., who helped plan 1963's momentous March on Washington. The film, which stars Colman Domingo ("Candyman") as civil rights leader Bayard Rustin, is produced by the Obamas' production company Higher Ground. Bruce Cohen, George C. Wolfe and Higher Ground's Tonia Davis serve as producers. Wolfe also directs the film.
"I hope we all know about the March on Washington — we know about the huge crowds, the historic speeches — but the story of what went on behind the scenes is a little more hazy. We don't know much about the folks who did the hard work," Michelle Obama said in her address to audiences. "Bayard Rustin was the driving force behind all of that."
"And yet — his name is not synonymous with that history as so many others. An openly gay Black man did not easily fit in — even in the heart of a movement for civil rights and justice. And he wasn't celebrated in our history, either," she continued. "To us, this film is about painting that fuller story of our history — triumphs, complications, all of it."
Following his wife's remarks, Barack Obama took the stage.
"[Bayard Rustin] is one of the seminal figures that changed the course of American history," stated the former president. "Without him, I might not have been President and you might not be sitting where you are today."