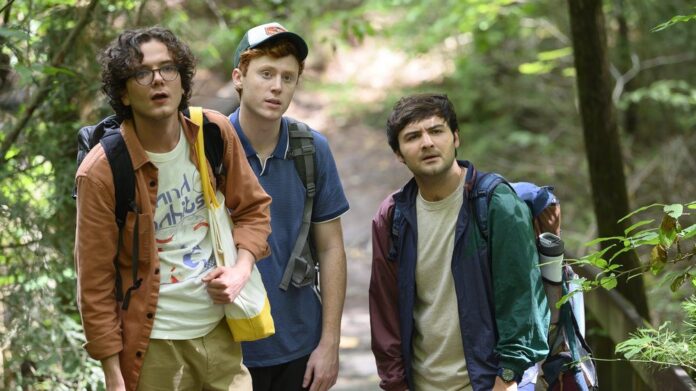 Paul Briganti describes the first week of filming "Please Don't Destroy: The Treasure of Foggy Mountain" as "a miserable nightmare."
The movie, which follows the "Saturday Night Live" comedy trio John Higgins, Ben Marshall and Martin Herlihy as they hunt for hidden treasure, was shot primarily in North Carolina state parks — in the sweltering summer.
"There were ticks and snakes, and it was over 100 degrees and very humid. It thunderstormed a lot," Briganti, who joined "SNL" as a director in 2016, tells Variety. In one scene, the Please Don't Destroy boys are chased by a hawk while traversing rocks. But there was a more pressing danger on set: "No one realized the entire ground was filled with underground hornet nests."
Still, Briganti wouldn't have made the buddy comedy, produced by Judd Apatow and now streaming on Peacock, any other way.
"There is something to shooting in the elements that gets you into the mindset and pushes you," he says. "Especially now, it feels like people are turning on things that are clearly shot on a soundstage because it feels a little dead."
Briganti called up Variety to discuss the film's most absurd moments, directing Conan O'Brien and why theatrical comedy movies might soon experience a "new boom."
The film was written by the Please Don't Destroy guys, who also obviously star in it. How much room did they leave themselves to improvise?
There was a lot of that, especially if you ask the handheld camera operators. A lot of long takes. The great thing about working with the Please Don't Destroy guys is they know each other so well and they have this kind of magic when they're together. They'd improvise a lot when it was just the three of them and find different paths. Obviously when filming, you have to shoot coverage. So we'd shoot a wide shot and they'd improvise and we'd keep it purposefully long. We had a transcriber there to take notes while they improvised stuff, and we'd get that in later coverage. By the time we did the last close-up, it was like an hour-long take, getting reactions to everything.
Is it true this is Conan O'Brien's first movie role where he's playing a character that isn't himself?
Yeah! He's been in a lot of things as himself. I think it was just the sort of thing that no one had thought to do before. We were the first ones to ask why he hasn't played a character, and he was like, "I don't know!" He was pumped to do it and had a really special presence on set.
What was it like directing such a comedy legend, especially considering he hadn't done this type of thing before?
He was very aware that he was new to it in a way that felt very humbling. He wasn't trying to big dog me or the guys at all. He was more like, "How do we make this as good as possible? How can I do the best job for you?" By that point I had been at "SNL" for a while, so I don't really get intimidated by directing famous people, but he's at a different level — he's so accomplished and revered and smart, I had to be on my game and not waste his time. But no one's telling you that but yourself. No one was trying to rush him out of there, he was hanging around. What I love about him is that he's very dry and sarcastic. He'll make fun of you as a way to show he loves you, toeing the line of being honest but funny and sweet. Like, if the boompole was in the shot by accident, he'd be like, "I'm leaving, this is bullshit." It makes everything so much more fun.
How much did you rely on audiences being familiar with Please Don't Destroy and their humor and dynamic from "SNL," versus needing to develop their characters from scratch?
I think it's a better approach to assume people don't know who they are — for any movie, really. You're making a story, and the characters live on their own. We did have a table read for the script in February or March and it went really well, but there was an issue with the first act where we got into it too fast. It originally started with them as kids and then cut to Martin being baptized, and John and Ben being annoyed that their friend is changing. We realized that we assumed people knew their dynamic too much, and we wanted to show people that dynamic. [So we added] that first sequence, which shows the audience their world and their outlook, which is: if things go wrong, they can always find a way to make it fun. And in real life, that is what they're like.
How'd you shoot the wingsuit scenes?
The first one was half location and half blue screen, which is a trick I learned somewhere. The last one was all on a soundstage because it was at night and on top of a mountain, which made it impossible to shoot for real. That was our only Marvel day — we had them on wires flying around, wind blowing in their face. I actually think the stuff on location was less hard for them than the blue screen stuff, because it takes forever to get up there and they're just hanging on wires.
A lot of Marvel actors have similarly talked about how acting in front of green screens is quite hard because you can't envision anything around you.
I'd like to believe there's a subconscious element that you're in a weird space. When you see someone in that world, there's a mental disconnect. That's why Tom Cruise tries to kill himself all the time. There's an extra "holy shit" element to seeing someone actually do something. So, we tried to do that as much as possible. Ben really was rigged 30 feet above the ground in 100-degree weather when he was flying. Judd Apatow told us early on, "This is why I love making movies who have never done it before, because they don't know what they don't know. They're not jaded." I don't know if I ever will be jaded. I really liked the difficulty of it.
What did Judd's involvement look like, and was there other advice he gave you as someone who's made comedy movies for three decades?
He was involved before me. The Please Don't Destroy guys wrote the first draft of the script before "SNL," and Judd agreed to come on as a producer before they got hired at "SNL." Judd was very involved throughout the writing. He's not intimidating, his presence is very disarming. This movie came together very quickly and I was like, "I don't know how this is going to work out." Fear and anxiety took over. And I asked Judd if any other movie he'd produced felt like that, and he said "Anchorman," which surprised me — it's such a huge movie, and it was so successful. But Judd said he didn't know how it was going to go. The script was all over the place, and Will [Ferrell] and Adam [McKay] weren't really proven yet. There was a Judd story for every stage of this movie, and it gave me perspective.
"Foggy Mountain" was originally set to play in theaters and then NBCUniversal moved it to Peacock. How important was it for you to put this film on the big screen, and is it frustrating in today's industry to have very little control over how the studios distribute your movie?
Ultimately, for me, it all comes down to reach, and how many people see the thing I worked extremely hard on. Peacock is doing some cool stuff with comedy — they're slowly building this corner of edgy, interesting, original comedy. There's Rian Johnson's "Poker Face," Pete Davidson's show, "MacGruber," all the Lorne [Michaels] stuff. They're taking very interesting, strong swings, and I think people are starting to notice now. Hopefully the movie fits into that corner. I think our movie would have an audience anywhere because I really believe in it. But in terms of the streamer, I'm very excited about Peacock and the things they're doing that no one else is.
It's interesting to contextualize this movie within Judd's filmography. There used to be such a strong theatrical market for the R-rated comedy. And Judd's most recent film "The Bubble" also went straight to Netflix. Why do you think there isn't necessarily a strong craving anymore for these movies to show in theaters?
I think about this a lot. It's a long cycle, right? What happened with comedies is what people are saying is happening to Marvel right now. There was a big bang of theatrical comedy movies in the early 2000s — "Anchorman," "Bridesmaids," "Zoolander," "Superbad," "Meet the Parents," huge, huge movies. When a big bang in entertainment happens, you get the next 10 to 15 years of that same type of thing but it slowly gets more commercialized and commodified. The quality starts to dip because you can't naturally keep it up. Audiences get bored and they move somewhere else. But what you're seeing now is people come out of the cave or seeing the sun again, with new, interesting and unique comedies that have a perspective. They're not coming from the head of a studio or an actor who wants to do a comedy — there's blood pumping in them. You see "Bottoms," which did well theatrically and is doing very well on demand; "Dicks: The Musical," A24's first comedy that my wife produced, full disclosure; and our movie too. People are starting to be interested in comedy movies again. I think we're at the precipice of a new boom for that kind of stuff.
The Soulja Boy dance is one of the movie's funniest moments. How did that become a part of the film?
They weren't planning on doing the dance until the morning of. I think it was John who was really excited about the dance and taught the other guys. You can tell he's clearly the best one. I don't think he'll care I'm telling you this, but when he was like 10 he won a Soulja Boy dance competition, which is insane. Another music cue that comes to mind is the Franz Ferdinand song. We had to write a letter to Franz Ferdinand because they first refused or didn't let us use it. They thought we were making fun of it, so we had to write a very heartfelt letter to them like, "We love your song, it's about friendship and this and that." Then they were cool with it.
Is the goal to continue making Please Don't Destroy movies? The format seems ripe for sequels.
Yeah, like the Ernest movies. Ernest is our North Star! We have a bunch of additional ideas and we've talked to Judd about it and everything. That is the hope, and hopefully the hope is turned into reality.
This interview has been edited and condensed for clarity.