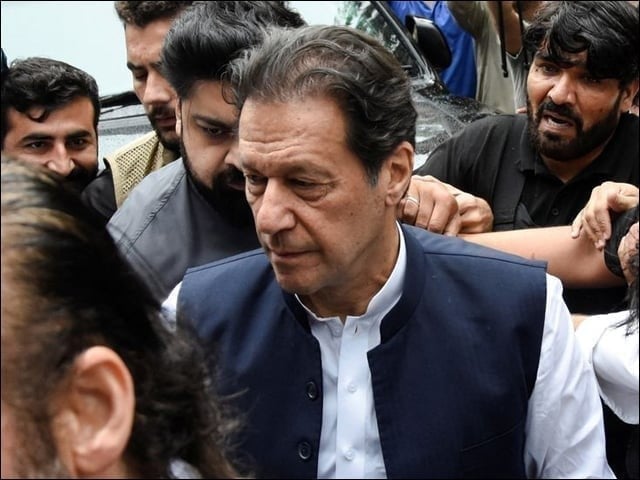 ISLAMABAD:

The election commission tribunal adjourned the contempt case on Monday against Pakistan Tehreek-e-Insaf (PTI) chairperson Imran Khan and former federal ministers Asad Umar and Fawad Chaudhry due to the non-appearance of the accused.
A four-member commission led by the Election Commission of Pakistan's (ECP) Sindh member Nisar Durrani took up the case. The accused were to be indicted today on charges of insulting the electoral body and its chief commissioner.
Read PTI loses strong wicket
The PTI chairperson and Fawad are both currently incarcerated in separate cases.
During proceedings, Durrani remarked that if there are prevailing security concerns then the hearing can be held in prison.
To this, the interior secretary replied that the tribunal could do so if it wished to. We have no objections to this, maintained the secretary.
A member of the commission then asked whether the law would permit this. To which, the interior secretary replied that the law ministry would have to be consulted on the matter.
Fawad's lawyer apprised the court that his client is on judicial remand in Adiala Jail.
Read More Citing security risk, govt fails to produce Imran before ECP
A member of the commission observed that the ECP is an independent constitutional body with its own rules. No other law apart from the Constitution and the Election Act is applicable on it, said the member.
The tribunal adjourned the hearing till December 6.
The ECP had initiated contempt proceedings against Imran, Asad, and Fawad for issuing statements against the electoral body and the chief election commissioner.
The Punjab Police had earlier, on behalf of the interior ministry apprised the tribunal that Imran could not be produced before the commission due to threats to his life.
Asad and Fawad have both apologized to the chief election commissioner and the ECP.
Separately, both Asad and Fawad have renounced their membership of the party.