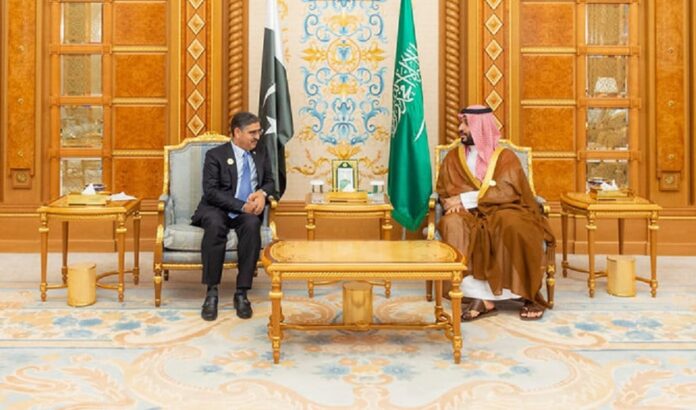 RIYADH:

Caretaker Prime Minister Anwaarul Haq Kakar on Saturday met Saudi Crown Prince Mohammed bin Salman on the sidelines of ongoing Joint Arab-Islamic Extraordinary Summit in Riyadh to discuss the latest situation caused by the aggression of the Israeli occupation forces against the Palestinians both in Gaza and West Bank.
The premier appreciated the role and efforts of the Kingdom of Saudi Arabia, under the sagacious leadership of the custodian of the two holy mosques and the crown prince, for promoting the Palestinian cause.
He thanked the Saudi leadership for the timely initiative of convening the summit with a view to evolve Joint Arab-Islamic Action on the deteriorating situation in the occupied Palestinian territories.
The two leaders underlined the need for urgent international collaboration geared to stopping Israel from brutal and indiscriminate aggression against the besieged and innocent Palestinians.
They further emphasised the urgency of lifting the blockade of occupied Gaza to facilitate the delivery of vital humanitarian aid and medical assistance to the affected population.
The prime minister denounced the Israeli action of bombing hospitals, refugee camps, schools and residential buildings, resulting in the loss of more than 10,000 precious lives.
He also underscored Pakistan's unwavering commitment to a just and enduring resolution of the Israeli-Palestinian conflict, based on the two-state solution leading to the establishment of an independent, sovereign and viable Palestinian state with borders that existed prior to June 1967 and AlQuds Alsharif as its capital.
PM Kakar also held meeting with Kuwait Crown Prince Sheikh Meshal Al Ahmad Al Jaber Al Sabah.
Both the leaders discussed the ongoing conflict in occupied Palestine and expressed their deep concern over alarming situation in Gaza with staggering death toll and destruction of civilian infrastructure amidst the ongoing Israeli aggression and siege.
They underlined the urgency for a ceasefire, end to the siege and provision of much needed humanitarian assistance to the besieged people of Gaza.
The premier reiterated Pakistan's longstanding principled position on the Palestinian cause for freedom from illegal Israeli occupation. He also highlighted Pakistan's consistent support to the two-state solution, in consonance with the relevant UN and OIC Resolutions.
The two leaders also discussed bilateral relations, particularly in the economic and investment fields. PM Kakar briefed the Kuwaiti crown prince about the SIFC and invited him to look at investment opportunities in Pakistan.
The crown prince promised to convey this message to the concerned authorities in Kuwait. He also lauded the role of Pakistani diaspora in the development of Kuwait.