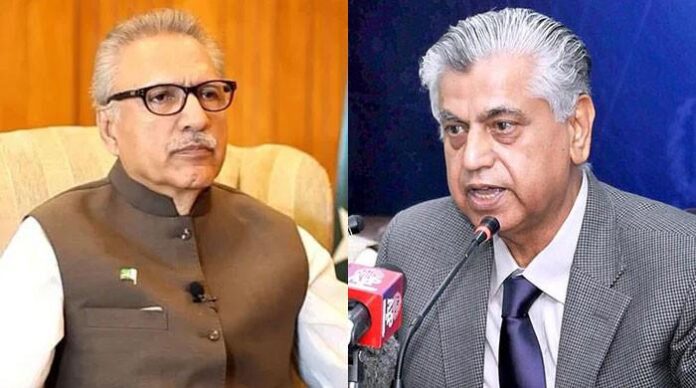 President's role is not limited to one party: Murtaza Solangi.
Says adherence to Constitution should be collective commitment.
All institutions are functioning freely: information minister.
---
ISLAMABAD: Firing a fresh salvo at President Dr Arif Alvi for allegedly toeing the line of Imran Khan-led Pakistan Tehreek-e-Insaf (PTI), caretaker Minister for Information and Broadcasting and Parliamentary Affairs Murtaza Solangi on Sunday said that the head of the state should represent all political parties in accordance with the law and the Constitution for fostering unity in the country.
Earlier this week, the president penned a letter to Prime Minister Anwaar-ul-Haq Kakar, conveying the concerns raised by the PTI. In his letter, the president urged the caretaker government to provide a level-playing field to all political parties in the upcoming elections.
Talking to journalists, Solangi said that the president's role is not limited to one party, urging him to speak on behalf of all the political parties.
He said if the president continued to speak for one political party, it would undermine his own credibility.
To a query, he said the country would be governed by the elected representatives, adding adherence to the Constitution should be a collective commitment.
Highlighting the essence of democracy as a platform for dialogue, Solangi dismissed concerns over complaints and grievances, stating that every party and individual had the right to voice their concerns at appropriate forums including courts and the election commission.
As regards the upcoming elections, Solangi pledged the caretaker government's full cooperation and assistance to the Election Commission of Pakistan (ECP), in accordance with the law and the Constitution.
He commended the competence and the sense of responsibility shown by the current ECP management, noting that they adhered to the action plan outlined for the elections.
To another query, the minister said that every crisis had a solution. The people of Pakistan will determine the country's future course on February 8, 2024, a date slated for the elections, he added.
Solangi, in response to another query, said that all institutions are functioning freely.