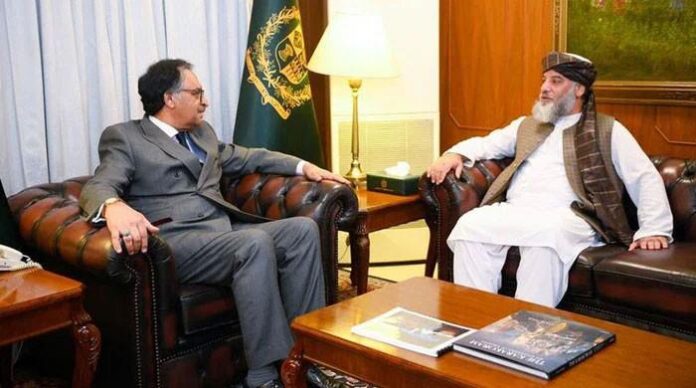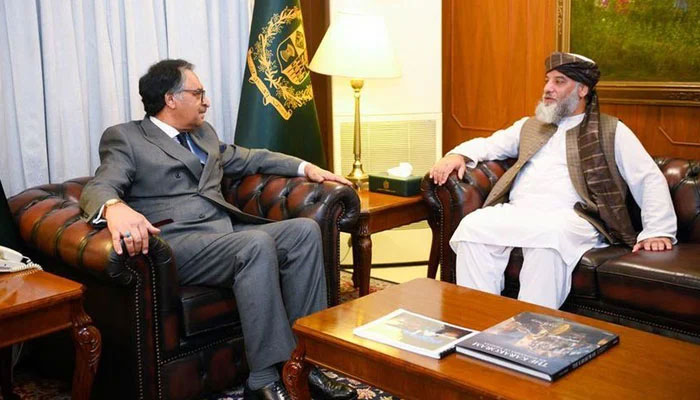 Afghan minister discusses issues with FM Jilani in meeting. 
Kabul also urges release of import containers stuck at Karachi Port.
Minister to meet with representatives from Pakistan, Uzbekistan. 
---
ISLAMABAD: The Taliban government urged Pakistan to allow the Afghan nationals to take their cash and other assets back to their homeland, The News reported on Wednesday. 
According to the Afghan Embassy, Minister of Industry and Commerce Nooruddin Azizi met caretaker Foreign Minister Jalil Abbas Jilani in Islamabad to discuss the issue of trade and assets owned by Afghan nationals in Pakistan. 
The visit took place less than a week after Pakistan said that its move to expel hundreds of thousands of undocumented Afghans was a response to the unwillingness of the Taliban-led administration to act against militants using Afghanistan to carry out attacks in Pakistan.
Taliban officials say militancy is an internal matter for Pakistan and have called on Islamabad to halt its deportation of Afghan citizens.
"Bilateral trade, especially stranded goods of (Afghan) traders in Karachi Port, smooth transfer of (Afghan) refugees' properties to (Afghanistan) and related issues were discussed," the Afghanistan Embassy in Islamabad said in a statement on the meeting. 
Afghan citizens being sent to their homeland have complained about restrictions on the transfer of assets and cash to Afghanistan which were owned by them in Pakistan. 
Kabul urges release of containers at Karachi Port
Azizi also urged Pakistan to release thousands of containers of imports which were stuck at the Karachi Port since Islamabad clamped down on transnational cargo.
Pakistan authorities say they have lost millions of dollars in taxes because goods are being sent duty-free from its ports to land-locked Afghanistan, and then smuggled back across the border.
Afghan authorities say Pakistan has stopped more than 3,000 Afghanistan-bound containers at the Karachi Port while demanding more tax and duty payments, causing millions of dollars in losses to traders.
The goods include high-end electronics, machine parts, chemicals and textiles, all of which attract huge tariffs if imported to Pakistan. The quantities of these goods destined for Afghanistan have soared in the past two years and are unrealistic given the size of the market there, Pakistani officials say.
"Hundreds of these containers have been parked for the last several months, while some have been stopped more than a year. The goods inside are spoiling and the traders are suffering losses," an official of the Afghan Consulate in Peshawar told AFP.
The trade row is one of several thorny issues that have grown between Kabul and Islamabad since the Taliban returned to power in Afghanistan in August 2021.
Meanwhile, the Foreign Office said Jilani conveyed the message that: "Full potential for regional trade and connectivity can be harnessed with collective action against terrorism."
The Foreign Office said the Taliban acting commerce minister would also undertake a trilateral meeting with representatives from Pakistan and Uzbekistan on Tuesday.
The agenda for the trilateral meeting was not clear, but the three countries have been working on plans for trade transit and railway connections between South and Central Asia that would cross through Afghanistan.